Nouvelle Courte Interview de Robert Pattinson avec L'Express. Bel Article (France)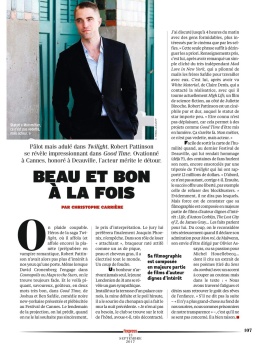 I translated some nice parts and Rob's quotes.
They weren't really fans of Rob's work until now at L'Express. And with 'Good Time', they find him "spicy, tasty, flavorful, in two words: really good"
They had predicted him and even wished him to win the interpretation prize in Cannes. For them, his role as Connie "has electrified everyone". "It's a love at first sight."
A happiness never comes alone, the young 31 Londoner turns out to be a friendly guy.
Sitting down on the terrace of a palace of Cannes, with a tired face and disheveled hair, he has the smile of a rascal who went over the wall the night before. "I didn't need to do it, the club is on the roof of the hotel," he said, very casual. "I chatted until 4 am with great people, more interested in cinema than by selfies." This sentence alone is enough to break all the prejudices.
Robert Pattinson is a diehard cinephile, whose star status doesn't matter "Being famous is not unpleasant, because it allows projects like Good Time to be brought to light. But it stops there. My job is not to be star, but to be an actor."
"Success offers freedom, for example, the freedom to refuse blockbusters."
His filmography is composed mostly of films d'auteur worthy of interest: 'Life' by Anton Corbijn, 'TLCOZ' by James Gray, ... the facts speak for him. As a result, we reconsider him very seriously when he declares his admiration for 'My King' by Maïwenn, his desire to work with Olivier Assayas, or his passion for Michel Houellebecq.
He quotes an excerpt from a poem by Michel Houellebecq. (from 'The Meaning of the Fight') with a thick French accent but in the text: "We went through fatigues and desires without remembering the taste of the childhood's dreams." [In French: Nous avons traversé fatigues et désirs sans retrouver le goût des rêves de l'enfance]. If he doesn't quote the next part "There is not much in the depths of our smiles, we are prisoners of our transparency", it's because he doesn't relate to it. And he's right.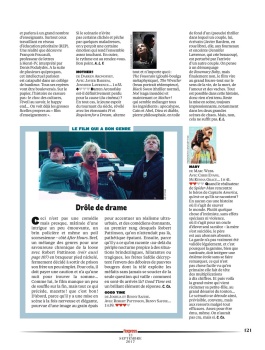 Scans thanks to Sally!