L'Australie a été fondée

pour y entreposer

les

escrocs

et les criminels

-

une ruche

misérable pleine de racailles de

méchanceté

,

comme une
Eisley
Mos

(
une ville de la planète Tatooine dans Star Wars)

propre à

l'Empire britannique

.

Bien sûr

, c'était

il y a très longtemps

et

l'attitude

nationale australienne

est

depuis

passée de "

tuer ou être tué

" à "

vivre et laisser vivre

", mais

le courageux
drame

de 2010 'Animal Kingdom' de David

Michôd

racontait les histoires contenporaines des descendants
de ces criminels du pays.

Dans son

deuxième essai

à venir,

'The Rover'

, le directeur pousse

les choses

encore plus loin.
Robert

Pattinson joue

le rôle d'un habitant

de l'Outback,

dans un futur proche

,

après qu'un effondrement

financier mondial

ait envoyé

beaucoup d'hommes comme lui

courir

dans les mines

encore

viables

du désert australien

.

"

C'est comme une

nouvelle

ruée vers l'or

", explique

Michôd

.

"Lorsque les gens

de tous les coins

du monde

sont venus

dans le désert

pour essayer de s'en sortir

.

Les petits délinquants

et les mécréants

et

les arnaqueurs." Guy

Pearce

, qui

avait eu un rôle

inhabituel de timide dans

'

Animal Kingdom',

va se glisser dans la peau d'un

méchant

face

à

Pattinson

.

"

L'histoire de base

est vraiment très

primaire", explique

Michôd

.

"

Dans le rôle de Guy vous avez un homme

très sombre

, dangereux et

meurtrier

,

et le personnage

de Rob

est quelqu'un de

très

troublé et

endommagé,

mais une âme belle et

naïve

.

"
Bien sûr, rien que

par son cadre

et l'intrigue

de base,

'Le

Rover

' va forcer la

comparaison avec

l'une des
contributions

cinématographiques

des

plus mémorables

aux

antipodes

du pays

.

"

Vous mettez

des voitures

dans le désert

en Australie

et les gens

vont penser

à

Mad Max

", explique

Michôd

.

"

Et avec

tout le respect dû

à ce film

-

et j'insiste

- je

pense que 'The

Rover

'

va

être beaucoup plus

effroyablement

authentique et

menaçant.

"



Pour en savoir plus

sur 'The

Rover' et

avoir un coup d'oeil sur les a

utres

projets à venir

, procurez-vous

le dernier numéro

de
Entertainment Weekly

vendredi.
Alors les fans? Contents? :)
¤¤¤¤¤¤¤¤¤¤¤¤¤¤¤¤¤¤¤¤¤¤¤¤¤¤¤
From EW:
Australia was founded as a repository for crooks and criminals — a wretched hive of scum and villainy, like the British Empire's own Mos Eisley
(
a fictional city

on the planet Tatooine in

Star Wars universe). Of course, that was a long time ago and the Australian national demeanor has since shifted from "kill or be killed" to "live and let live," but David Michôd's gritty 2010 drama 'Animal Kingdom' chronicled some of the country's more modern criminal descendents. In his upcoming sophomore effort, 'The Rover', the director takes things even further.
Robert Pattinson plays a denizen of the Outback in the near future, after a worldwide financial collapse has sent many like him running to the still viable mines of the Australian desert. "It's like a new gold rush," says Michôd. "Where people from all corners of the world have come out to the desert to scrape out an existence. Petty criminals and miscreants and hustlers." Guy Pearce, who had an uncharacteristically reserved role in Animal Kingdom, gets to sink his teeth into a nicely nasty part opposite Pattinson. "The basic story is really quite elemental," says Michôd. "You've got a really dark, dangerous, murderous person in Guy's character, and in Rob's character you have a quite troubled and damaged, but beautiful and naïve, soul."
Of course, just by its setting and basic plot, The Rover is poised to draw comparisons to one of the antipodean country's most memorable cinematic contributions. "You put cars in the desert in Australia and people are going to think of Mad Max," says Michôd. "And with all due respect to that film — and I stress that — I think The Rover is going to be way more chillingly authentic and menacing."

For more on The Rover and first looks at other upcoming projects, pick up the new issue of Entertainment Weekly on stands Friday.
So who is excited? :)
Source
/
Via
/
Picture
UPDATE>>>>>>>>>>>>>EW Scans
(Cliquez pour agrandir /
Click for larger
)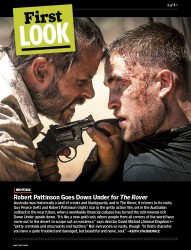 Source
Scan /
Via