Rob et Guy Pearce avec Samuel Johnson (Acteur Australien).

Samuel

Johnson

veut réunir

1 million de dollars

pour la

recherche sur le cancer

du sein

avec

un défi

épique

, faire le tour

de l'Australie

sur un vélo à une roue

!
Rob and Guy Pearce with Samuel Johnson (Australian actor). Samuel Johnson is raising $1m for breast cancer research with an epic challenge, riding around Australia on a unicycle!
Cliquez pour HQ / Click for HQ: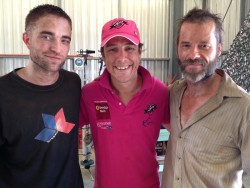 Source
/
Via
&
Via